This indicator uses reports by CFTC. These reports are published on the website www.cftc.gov in two formats, "Excel" and "Text".
Select reports in text format of the category "Futures-and-Options Combined Reports", or "Futures Only Reports".
Download five files and then rename them. All of the files in the archives have the same name annualof.txt, or annual.txt, so they must be renamed. The file for current year must be renamed in 2015.txt.
The second file for past year must be renamed in 2014.txt and so on. Old version of the indicator used files type of A.txt, B.txt, C.txt, D.txt, E.txt. So as not to rename these files every year, I began to use files type of year.txt, in new version of the indicator.
Then place the renamed files it the folder MQL4\Files. After that, you can start to use the indicator.
The indicator creates files and global variables with names code.bin. To update these files, you should change values of global variables from 0 to 1, (press F3). Then click "Refresh" to refresh the chart. If you want to update all of files at once, use global variable named "Update files code.bin".
The variable "Code", which you can see in the settings of the indicator, means market code of a futures. For example, the code of wheat is equal 001602.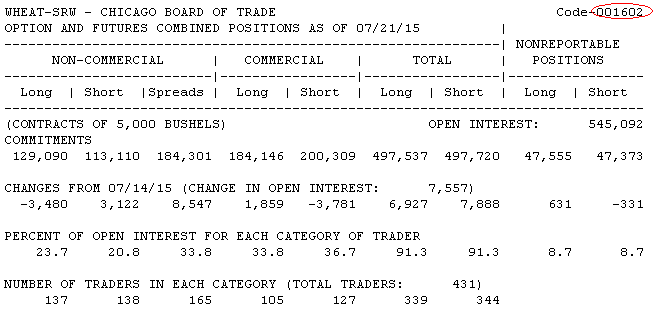 Binary Options Indicators – Download Instructions
COT Binary Options Indicator is a Metatrader 4 (MT4) indicator and the essence of the forex indicator is to transform the accumulated history data.
COT Binary Options Indicator provides for an opportunity to detect various peculiarities and patterns in price dynamics which are invisible to the naked eye.
Based on this information, traders can assume further price movement and adjust their strategy accordingly.
How to install COT Binary Options Indicator.mq4?
Download COT Binary Options Indicator.mq4
Copy COT Binary Options Indicator.mq4 to your Metatrader Directory / experts / indicators /
Start or restart your Metatrader Client
Select Chart and Timeframe where you want to test your indicator
Search "Custom Indicators" in your Navigator mostly left in your Metatrader Client
Right click on COT Binary Options Indicator.mq4
Attach to a chart
Modify settings or press ok
Indicator COT Binary Options Indicator.mq4 is available on your Chart
How to remove COT Binary Options Indicator.mq4 from your Metatrader Chart?
Select the Chart where is the Indicator running in your Metatrader Client
Right click into the Chart
"Indicators list"
Select the Indicator and delete
Click here below to download the Binary Options Indicators:
cot